All dynamic (congestion based) tolls are collected electronically using a SunPass toll transponder. Electronic tolling is safe and easy method of toll collection.
Any non-exempt users of 95 Express must use a SunPass transponder, or they will be considered a violator and subject to a $25 (per trip) fee.
Obtaining a SunPass is quick and easy. You have the choice of two different models: The SunPass PRO portable is a hard case transponder with suction cup mounts that allow it to be transferred from vehicle to vehicle. The SunPass PRO portable transponder can be purchased for $14.95.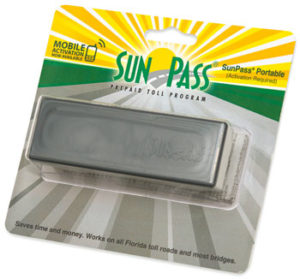 The SunPass Mini or 'sticker tag' is a credit card sized unit that uses adhesive to stick to your vehicle's windshield. This device cannot be moved from vehicle to vehicle at it can be purchased for $4.99.
Either version of the SunPass transponder can be purchased at hundreds of retail outlets across the state of Florida including: Publix Supermarkets, CVS Pharmacies and Walgreens.  For a full list of retail outlets or to learn more about the SunPass program visit Sunpass.com